When I first moved into my studio about 3 years ago, my creative space started off as a set for my web series "Style With a Smile." I wanted to have one wall set up at all times so I would always be ready to shoot. But as I got busier with other endeavors, e.g., doing weddings and creating design projects for various manufacturers and web sites, the studio got messier and messier. By the beginning of this year, it looked like something out of "Hoarders." What I really needed was a better storage solution. So my studio makeover started with wall to wall cabinets and evolved from there. Now there's a place for everything. More importantly, I filled the studio with fun, colorful things that inspire me. Take a look around, and you'll see I mean.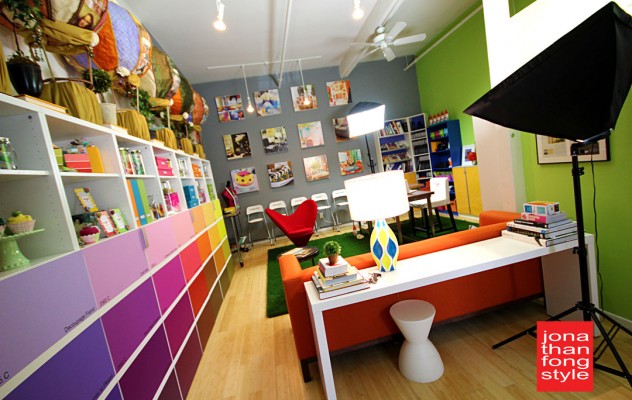 Here's the view from the front door. The wall to wall cabinets on the left side are Ikea Besta cabinets, and I turned each cabinet front into giant paint chips. The sofa table is the Ikea Malm occasional table. The orange sofa is the Lamare sofa from Plummer's. The table lamp is from Lamps Plus. The stool is the Philippe Starck Aha Stool. You'll notice the big studio lighting everywhere. I bought the lighting from Steve Kaeser for my web series, but I use it all the time even when not filming.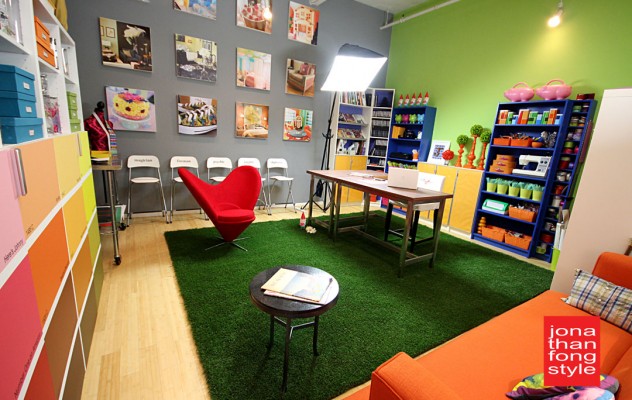 Come on in and get comfortable. On the far right wall is the original set for "Style with a Smile." That hasn't changed much. And you'll recognize the red Panton Heart Cone chair that is in the opening credits of the show. One of the new additions to the space is the "lawn." I had wanted to have an area rug here to not only define the space, but also muffle the sound in the studio. But I needed a rug that was at least 10′ x 12′, and those are expensive. I briefly considered Flor carpet tiles. And then I  happened on the idea of buying a big piece of artificial turf. This is thick, realistic looking fake grass, not a thin sheet of astroturf. It feels so good to walk on.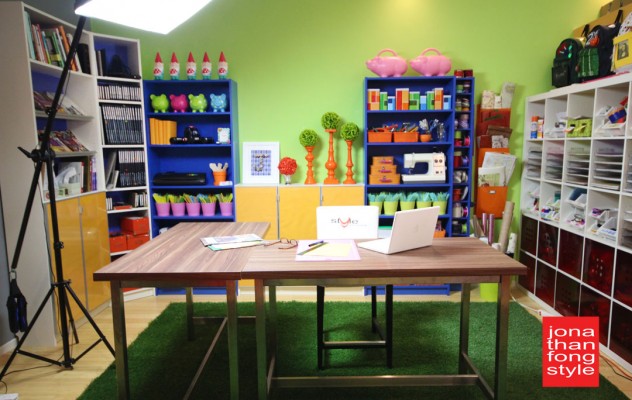 When I step on the grass, it's like I'm entering the "creativity zone." The overhead studio light actually has daylight spectrum lightbulbs, so it very much feels like having a skylight with the sun filtering through.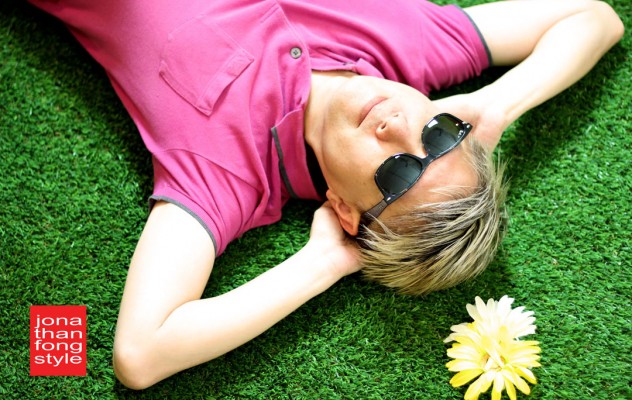 I love to relax on the lawn to recharge my creative juices. With the daylight spectrum bulbs shining above me, it's like being at the park, only better, because I'm allergic to real grass.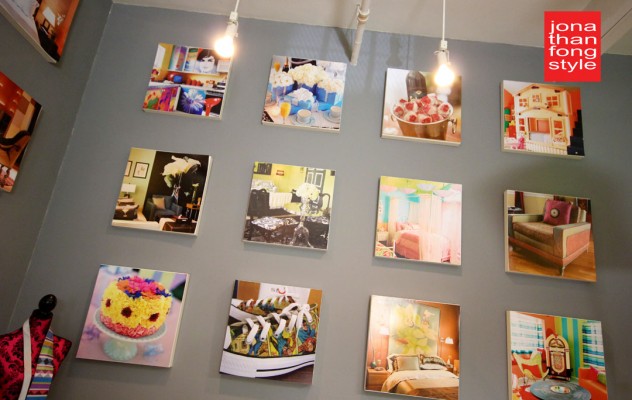 I framed photographs of my past work and had them going up to the ceiling. Each photograph is very large, about 22 square inches. They are mounted to Ikea Lack tables (obviously with the legs off). At $7.99, they were a very cheap solution to framing, and the chunky sides give the pictures a modern look.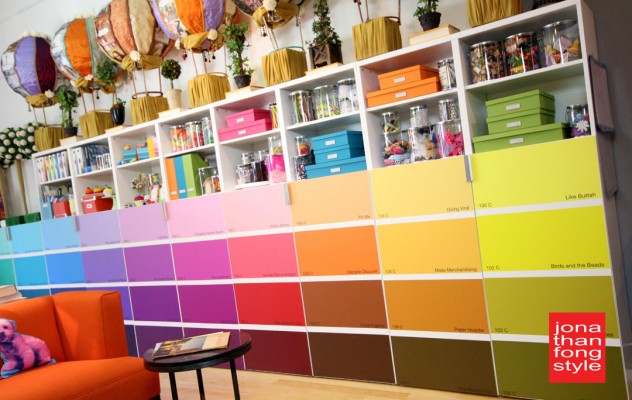 I created the paint chip panels on InDesign and had them printed at muralsyourway.com as restickable wallpaper. Murals Your Way is one of my favorite resources. You just send them photos or art files, and they make wallpaper murals out of them. Your mural can either be traditional wallpaper or their new restickable paper. I love this stuff. It's really easy to apply, and you can peel it on and off and on and off lots of times.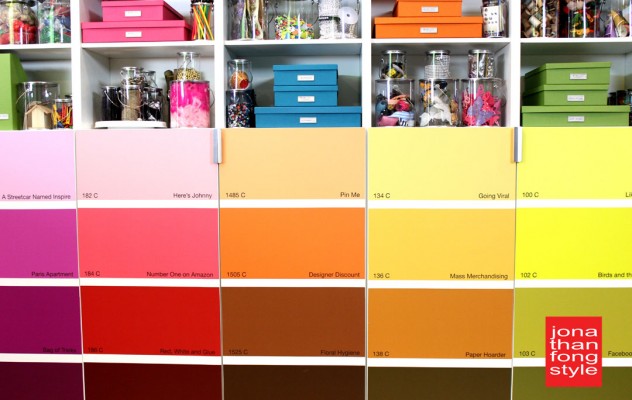 I had the colors matched to actual Pantone colors, but I made up all the names. How fun to make up paint names. At first the names were a little snarky, but then I gave them names that were related to design, or even had an aspirational element to it. You can say that the cabinets are one giant vision board for me.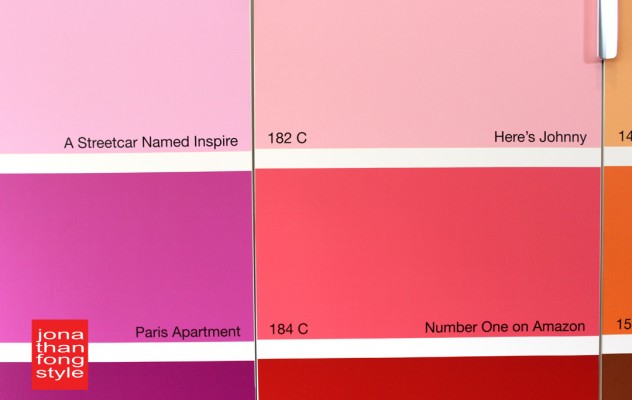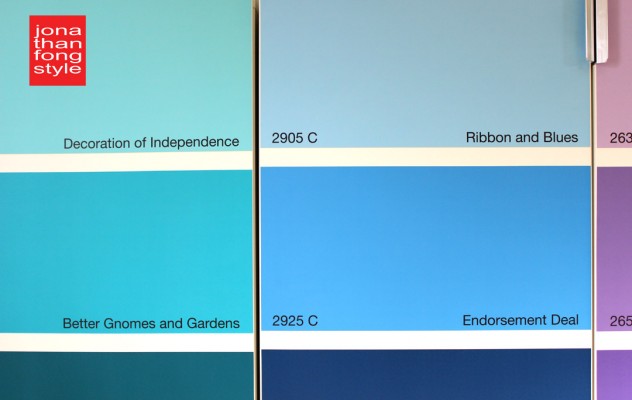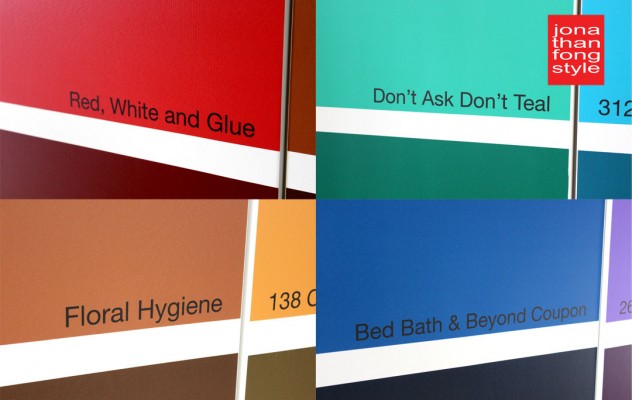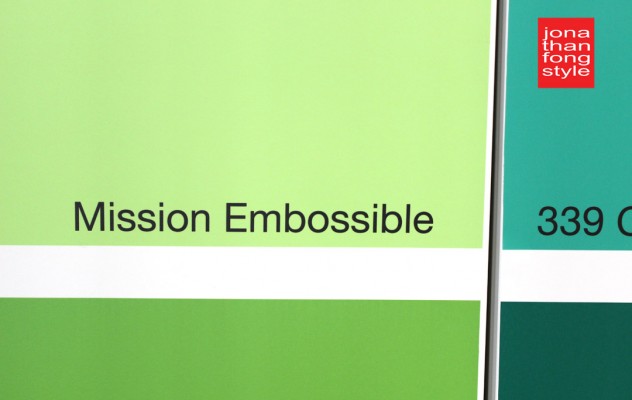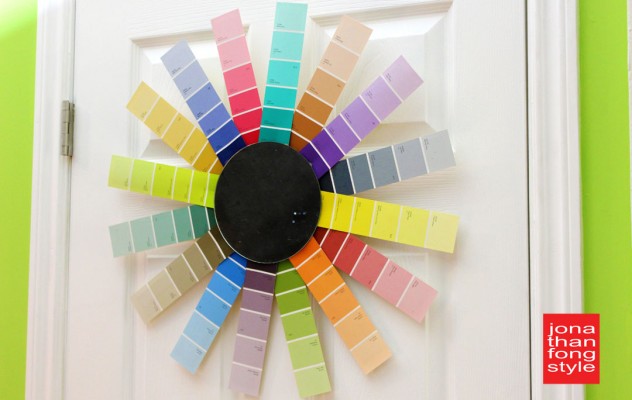 Here's the paint chip mirror I made for one of the episodes of "Style with a Smile."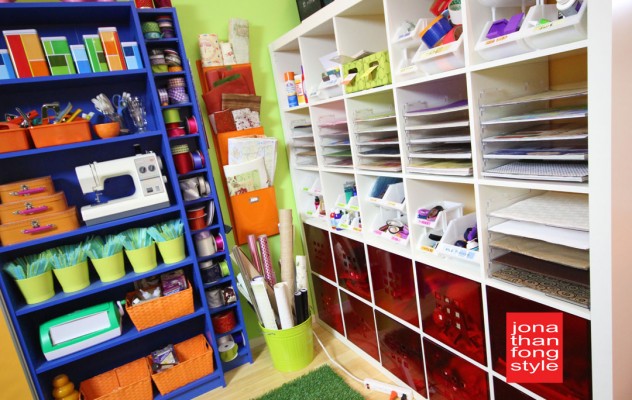 Finally, a place for all my ribbon, which I placed in the small Ikea Benno bookcase meant for DVDs. I used to keep all my paper for paper crafts in a cheap wire shelving system, but it collapsed under all the weight, so I got this sturdy Ikea Expedit bookcase. It has cubbies that are the perfect size for scrapbook paper. Plus, I added Ikea Lekman storage boxes, which I previously bought to make lampshade centerpieces.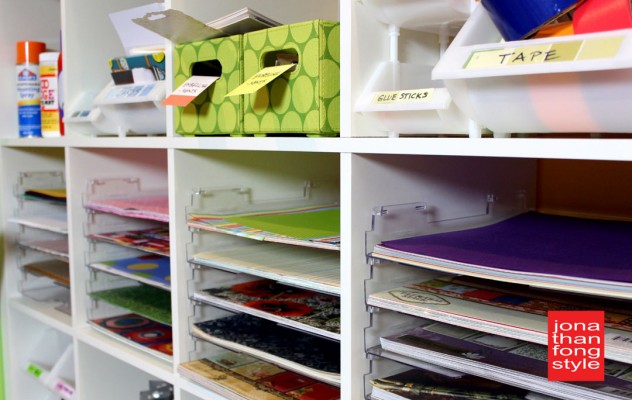 I just love these stackable trays for scrapbook paper that I bought at paperwishes.com. They fit perfectly in the Expedit bookcase. The small white storage bins are from the Container Store.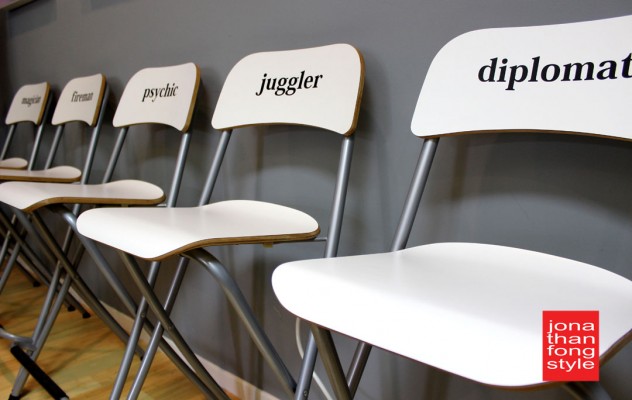 I play a lot of roles for my clients, so I've reflected that on the stools in the office: magician, fireman, psychic, juggler, and diplomat. The words were created with vinyl lettering using my Sizzix eClips machine.
To go with the whole paint chip scheme, I used these clear paint pails for storage. I got them at Michaels, the Container Store, and Oriental Trading.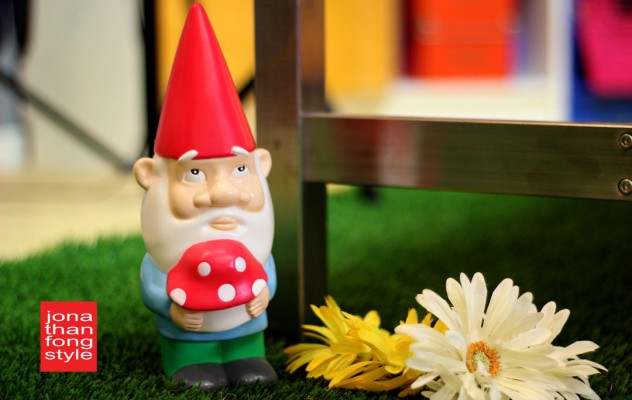 The studio's resident gnome likes the lawn.