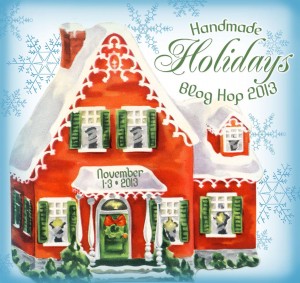 It's the 3rd day of the Handmade Holidays Blog Hop, and what have I made for you today, my crafty friends? I love to find new uses for old items, and one of the things I have a lot of are plastic CD/DVD jewel cases. It turns out they make great easel style frames for artwork. Using Craft Attitude printable film, I applied an image to the jewel cases, and voila, instant art. For this project, I created alphabet letter artwork spelling out the word "JOY." The great thing about the Craft Attitude is that it's translucent, so when I put an LED candle behind the artwork, it glowed. This would look great on a mantel or a table on an entryway.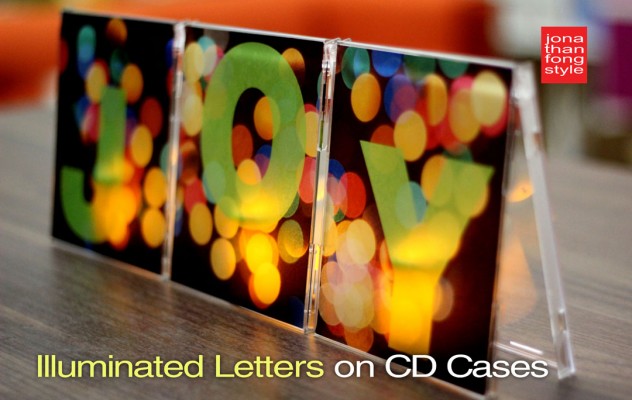 For a great gift, you can also put photos on the CD cases with the Craft Attitude film. Here are photos of my dogs Gershwin and Fosse on the CD cases. LED candles would light up their cute faces, too.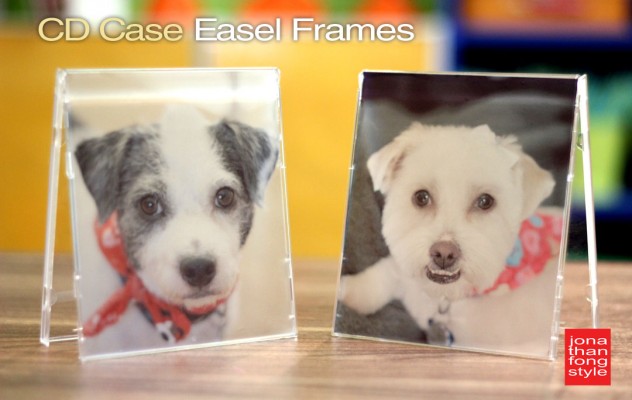 Before I go through the super easy tutorial on this, let me talk about Craft Attitude, because it's a new product and not a lot of people know about it yet.
Each pack comes with eight sheets of Craft Attitude (I am going to just call it Craft Attitude rather than calling it by the individual brand names.) You put in in your inkjet printer at home. Then you print out any image you want – photographs, stock illustrations, you name it – onto the Craft Attitude sheet. The sheet consists of a very thin film, or skin, and a protective backing sheet that lets you feed it through the printer. After you've printed your design, you peel off the film from the backing and apply it to practically any surface – wood, paper, metal, fabric – with a glue stick or spray adhesive. But lo and behold, for this project, it doesn't even need adhesive because the Craft Attitude sticks to the plastic CD cases with static alone. Gotta love that!
Step 1: First, I created the graphics. I found an images of some blurred colored lights on publicdomainpictures.net, sized them to the dimensions of a CD jewel case, and added an initial on top using Photoshop. Below are the free printables that you can download of this artwork.  Just click the names of the files. You'll notice that I made the J backwards. That's because you always want to print in reverse on Craft Attitude, because you'll be flipping the image over later.
Then I printed the artwork on 3 sheets of Craft Attitude and trimmed the artwork with a craft knife.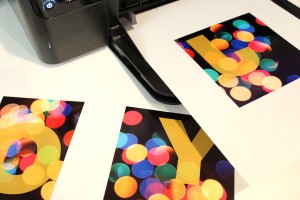 Step 2: I disassembled the CD cases to remove the existing artwork, as well as the center panel that has the doohickey to hold the CD. It snaps right off, so don't be afraid to show it who's boss. Then I put the CD case back together again.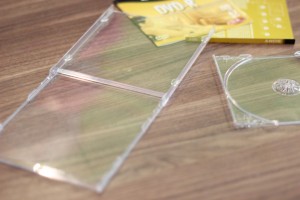 Step 3: Like I said, I didn't need to apply any adhesive on the Craft Attitude because it sticks to the plastic with static. It is a little challenging at first to get it on without air bubbles. What I did was just get it on, not worrying about the air bubbles. Then I just lifted it up where there were bubbles and smoothed it out with my fingers. Hint: If you start in the middle and work outwards, it's easier.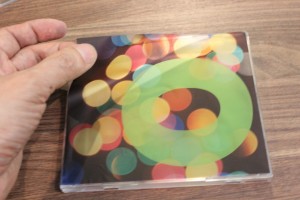 Step 4: Open the CD case and stand it up like an easel. Place an LED candle behind the image so it illuminates. Because the image is on the plastic with static, you can switch out your message or image for every occasion. Sometimes you can spell out words. Sometimes you can just display photos. It's just a really cool way to make easel frames.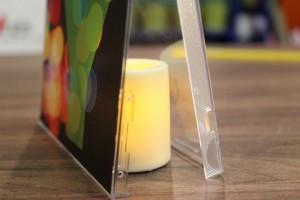 Now be sure to enter to win the Handmade Holidays prize package.
And hop on over to the other projects on today's blog hop.